If you are a fitness freak and love to do regular exercises, then you can buy the best fitness band under 500 to track your health.
A smart band under Rs 500 can help you to keep track of your health. You can easily track your daily activities such as cycling, running, swimming, and even sleeping. Your daily activities can help you to monitor your health.
Some Fitness bands can also track your heartbeat. This can monitor heart activity. It has been proved useful in many cases where the user's heart rate monitor on the fitness band has alerted the user and has saved them from serious health complications.
Features to look out for in a fitness band before buying.
Heart rate monitor– You can easily monitor your heart rate with a fitness tracker. You can keep track of the calories burnt and the intensity of the workout.
Exercise recognition– Some devices have this feature of exercise recognition, which recognizes the type of activity you are performing and displays the information about it without manually entering a particular mode.
Smartphone integration– Fitness bands can also connect with your smartphone to deliver the ultimate experience. After integration, you can receive calls, messages, and notifications on your smart band. Also, the fitness band can be controlled by a smartphone by a compatible band.
The fitness bands under 500 do not track activities accurately, therefore if you have more budget then, check out the Best fitness band under 3000.
Best Fitness Band under 500 India 2022
1. SHOPTOSHOP Fitness Tracker SM3 Wristband (Best Fitness band under 500)
If you want a fitness band that is features packed and easy to use, then you should go with this one. It has all the necessary features making it the best fitness band under 500 rupees.
You can keep track of your calories burnt, and sleep cycle, and monitor your heart rate. It is splashproof and sweatproof so you can use it anywhere, wherever you go.
It is compatible with devices having Bluetooth version 4.0 and below in smartphones, tablets, and PCs and also supports Android and IOS Working.
This watch is a real-time tracker and you can track steps, calories burnt, and active minutes, you can check daily activity and time on an OLED display or APP.
Apart from these, you can also monitor Sleep quality measurement, set Call reminders, Alarm clock, check Message call notifications, Sedentary reminders, Anti-lost, find the phone/bracelet, Sedentary reminders, and Social sharing (WeChat, Facebook, Twitter, Skype).
You also see the incoming calls and notifications from different apps on it, however, you cannot directly answer or call anyone through it.
The band doesn't work directly but it works after you download and connect an app from the play store and connect the band with the app by enabling Bluetooth and location. After this setup, you can customize your band with the help of the app.
Specifications
Brand– SHOPTOSHOP
Material– Silicone
Compatible with– Smartphones, Tablets
Item Dimensions LxWxH– 6 x 15 x 4
Pros
Real-Time Activity Tracker
Blood pressure, heart rate, Blood Oxygen Monitors, Pedometer, Calories, Distance, Stopwatch, Sleep quality measurement
Call reminder, Alarm clock, Message calls notifications
Cons
works only after installing the fitness band application from the play store
Also read: 5 Best Fitness Bands under 700
2. Drumstone [ *Athlete's Choose Pack ] Smart Fitness Activity Tracker
This is another excellent fitness brand for fitness freaks. It has a heart rate monitor, sleep monitor, blood pressure monitor & step count to track all your daily activities and help you monitor your health.
It can be easily connected with smartphones through Bluetooth as it has Bluetooth version 4.0. The display screen is a 0.78\" OLED Touchscreen with a 128 x 80 Screen Resolution. To control the band you can slide or press.
It monitors your sleep cycle to help you improve your sleep. You can also see incoming calls and you can reject them from the smart band screen, however, you cannot answer calls.
The band also allows you to set reminders.
Specifications
Brand– Drumstone
Compatible with– Smartphones
Features- Health monitoring: exercise step counting, smart step counting bracelet health monitoring, sleep analysis, it is durable and has a long service life, Multi-function: information push, call, smart reminder, step counting, social entertainment
Pros
Heart Rate sensor
Blood Pressure Monitor
Exercise Band
Waterproof
Cons
sometimes price goes above 500
For more accurate tracking in the budget, I recommend checking out the Best fitness band under 1500.
3. HUG PUPPY Unisex Smart Band Watch
With the help of this fitness band, you can monitor your health such as Track steps, distance, calories burned, and active minutes.
The OLED display screen is of 128×64 pixel resolution. The battery is a 380MAH polymer lithium battery which gives a backup of around 2 days.
You can see Receive/Rejection calls, calendar, SMS, and SNS (Facebook, WhatsApp, LinkedIn, Instagram, and Twitter) notifications on display but cannot answer calls through the smart band.
This band is compatible with an app available on the play store and works only with it. To set the time you have to use the app.
Specifications
Brand– HUG PUPPY
Compatible with– Smartphones, Tablets
Function– Blood Pressure, Passometer, Sleep Tracker, Countdown, Push Message, Heart Rate Tracker, Alarm Clock, Chronograph, Remote Control, Activity Tracker, Fitness Tracker, Social Media Notifications, Message Reminder, Call Reminder
Pros
Heart Rate Monitor
Activity Fitness Tracker
Waterproof
Calls & Messages Notification
Cons
To set the time to download the app is necessary
4. Dronean HG77 ID115 Plus Bluetooth Smart Fitness Band Watch
This smart fitness band is another good smart band that is Bluetooth enabled. It also has a heart rate sensor for monitoring the heart rate, however, the data provided is not accurate but it's good considering the price.
This band also tracks the different types of activity performed by the user such as walking, cycling, etc.
You can also monitor your sleep through this band and blood pressure which is again not very accurate but it's a good feature at this price.
It is unisex and is compatible with all smartphones. You need to download the app mentioned in the user manual to do settings and access other features.
You can record daily calories, distance, and steps and stay fit. Download and track all the data on the smartphone with the VeryFitPro app.
The smart band also displays incoming calls and other notifications.
Specifications
Brand- Dronean
Compatible Devices- All Devices
Product Dimensions- 3 x 3 x 3 cm; 80 Grams
Weight- 80 g
Pros
Waterproof Smart Fitness Band
Heart Rate sensor
Activity Recorder
Sleep Monitor
Calorie Counter
Call Notifications
Blood Pressure
5. Global Enterprise™ M4 Smart Fitness Tracker
This is some of the rare bands in which you will find a calling function that helps you to receive calls and disconnect them but also you can also send and receive messages through it.
It has a Heart Rate sensor, Activity Records, Sleep Monitor, Calorie Burned, Rejected Calling, Alarm, Blood Pressure, Message, and USB Charging.
The smart band is compatible with all smartphones and tablets. It is Bluetooth-compatible and works with Bluetooth 4.0 or above.
The heart rate monitor, activity tracker, and other features don't provide accurate data which is common in the smart bands of this range.
Specifications
Brand– GLOBAL ENTERPRISE
Compatible with– All smartphones, Requires Android 4.3 or above, iOS 7.1 or above
App comptabile– Veryfit 2.0
Pros
Heart Rate sensor
Activity Records
Sleep Monitor
Calorie Burned
Rejected Calling
Alarm
Blood Pressure
Message
USB Charging
Cons
the activity tracker and other sensors are useless
Also read: Best fitness band under 1000
6. Jyara M4 Smart Band
This fitness band has a 0.96-inch HD Screen for easy viewing. It is a sleek and Light Weight Yet Durable Design Which Makes It Very Comfortable To Wear And Carry Around.
This band has IP67 waterproof rating which means you can wash your hands while wearing it but don't wear it during swimming or rain.
After connecting it to your smartphone you can see all your smartphone notifications on it. Also, you can see incoming calls and reject them through it.
This fitness band also has calorie consumption, exercise distance, pedometer, Support Dynamic Heart rate, Blood Pressure, and Blood Oxygen monitoring.
Specifications
Brand– Jyara
Screen–  0.96 inch
Compatible with– Smartphones, Tablets
Included Components– Band
Conclusion
SHOPTOSHOP Fitness Tracker SM3 Wristband is the best fitness band under 500 as it is feature-packed. It comes with a heart rate sensor, blood pressure monitor, blood oxygen monitor, Pedometer, Calories, Distance, Stopwatch, Sleep quality measurement
, Call reminder, Alarm clock, Message calls notifications, and the Reject call feature.
Frequently Asked Questions (FAQ)
What is the rate of the fitness bands?
Fitness band price varies according to brand and specifications. You can buy a band for as low as Rs 250 and some bands from big bands are priced at over Rs 20000.
Are fitness bands worth it?
Fitness bands are useful in tracking your activities. You can monitor your heart rate, blood oxygen saturation level, blood pressure, sleep, etc. By monitoring your health you can improve it. Most fitness bands also remind you about long hours of idleness. After connecting the band with the smartphone you can also see smartphone notifications such as calls, messages, Whatsapp notifications, etc.
Does the fitness band work without a phone?
You can use the fitness band without a phone. However, for detailed stats about your activity you have to use your smartphone. After downloading the app from the Play Store of that brand, you can not only monitor your today's data but also your previous day's data.
Should I buy a smart band?
If you want to track your activities and monitor your health data such as heartbeat, blood pressure, blood oxygen saturation etc then the fitness bands can help you in monitoring them. Fitness bands are also useful in monitoring your sleep, you can improve it by monitoring it.
You can also see your smartphone notifications and incoming calls without touching your smartphone. Taking pictures remotely by it is also possible.
What does a smart band do?
A smart band tracks all your activities and you can then monitor your whole day's movement data with it. Most bands also have heart rate sensors for monitoring heart beat rate.
You can also see your incoming calls and other notifications from different apps on it without touching your smartphone.
Fitness bands are overall very useful in monitoring health and improving your activities.
Read Next: How to set time in a fitness band

Hi, I am Chandra. I am a gadgets lover and loves to invest in new gadgets as they fascinate me. For the past 10 years, I have been reviewing smartphones, different accessories, and home appliances along with other gadgets such as fitness bands and gaining knowledge about them. I love to share my experiences with home appliances and other gadgets with my readers through this blog.
Summary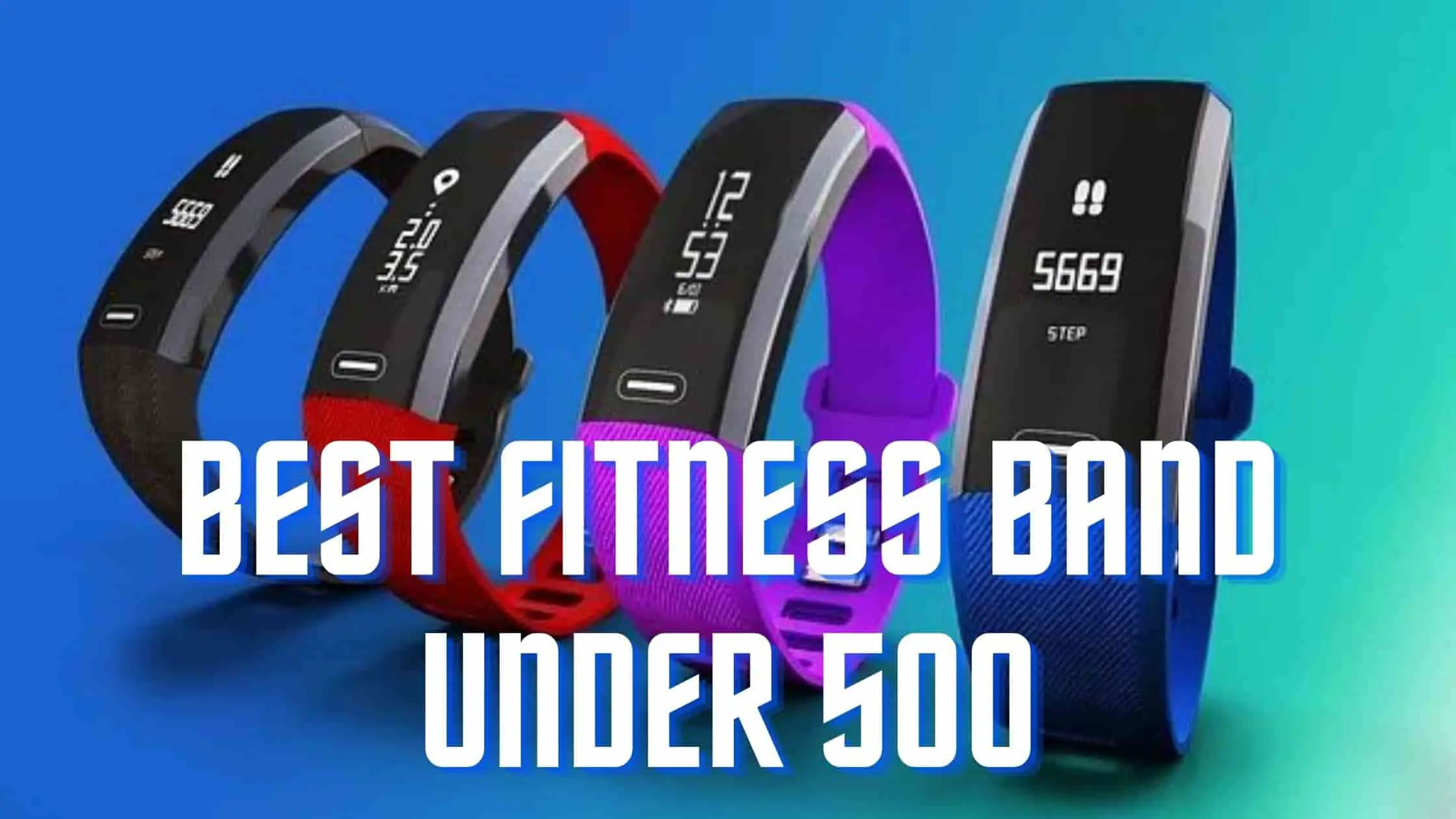 Article Name
5 Best Fitness Band under 500 India 2022 - Reviews & Buyers Guide
Description
Check out the Top 5 Best Fitness Band under 500 India 2022 with a heart rate monitor. smart band with an activity tracker, sleep monitor
Author
Publisher Name
Publisher Logo